Performance Comparisons - Stocks vs. Bonds vs. Managed Futures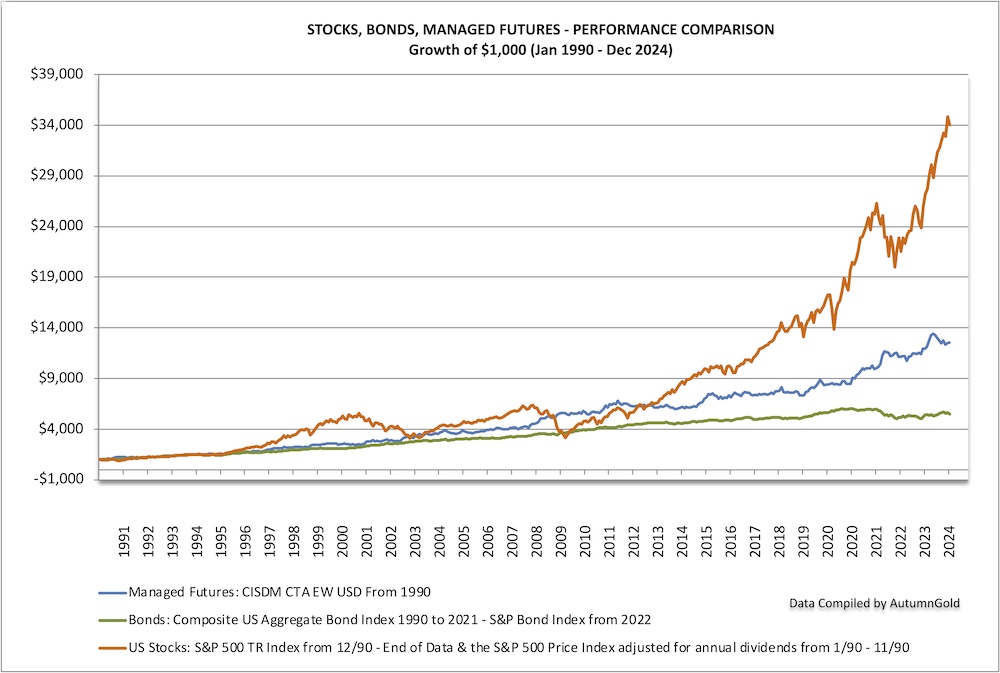 The addition of managed futures to a client's portfolio does not mean that a portfolio will be profitable or that it will not experience substantial losses and that the studies conducted in the past may not be indicative of current time periods or of the performance of any individual CTA.
The S&P 500 indices are designed to reflect all sectors of the U.S. equity markets. The S&P 500 includes 500 blue chip, large cap stocks, which together represent about 75% of the total U.S. equities market. Companies eligible for addition to the SP 500 have market capitalization of at least US$3.5 billion. The TR Index accounts for the reinvestment of dividends.
Bonds are represented by the Barclay's US Aggregate Bond Index (formerly known as the Lehman US Aggregate Bond Index). The U.S. Aggregate Bond Index is a broad-based benchmark that measures the investment grade, U.S. dollar-denominated, fixed-rate taxable bond market, including Treasuries, government-related and corporate securities, MBS (agency fixed-rate and hybrid ARM pass- throughs), ABS, and CMBS. The U.S. Aggregate rolls up into other Barclays Capital flagship indices such as the multi-currency Global Aggregate Index and the U.S. Universal Index, which includes high yield and emerging markets debt. The U.S. Aggregate Index was created in 1986, with index history backfilled to January 1, 1976.
The CISDM Equal Weighted CTA Index is an equal weighted index of CTAs maintained by The Center for International Securities and Derivatives Markets at the University of Massachusetts Amherst. It reflects the average performance of Commodity Trading Advisors reporting to the CISDM Hedge Fund/CTA Database. Each CTA must have at least $500,000 under management and at least a 12-month track record.
THE RISK OF TRADING COMMODITY FUTURES AND OPTIONS IS SUBSTANTIAL. THE HIGH DEGREE OF LEVERAGE ASSOCIATED WITH COMMODITY FUTURES AND OPTIONS CAN WORK AGAINST YOU AS WELL AS FOR YOU. THIS HIGH DEGREE OF LEVERAGE CAN RESULT IN SUBSTANTIAL LOSSES, AS WELL AS GAINS. YOU SHOULD CAREFULLY CONSIDER WHETHER COMMODITY FUTURES AND OPTIONS IS SUITABLE FOR YOU IN LIGHT OF YOUR FINANCIAL CONDITION. IF YOU ARE UNSURE YOU SHOULD SEEK PROFESSIONAL ADVICE. PAST PERFORMANCE DOES NOT GUARANTEE FUTURE SUCCESS. IN SOME CASES MANAGED ACCOUNTS ARE CHARGED SUBSTANTIAL COMMISSIONS AND ADVISORY FEES. THOSE ACCOUNTS SUBJECT TO THESE CHARGES, MAY NEED TO MAKE SUBSTANTIAL TRADING PROFITS JUST TO AVOID DEPLETION OF THEIR ASSETS. EACH COMMODITY TRADING ADVISOR ("CTA") IS REQUIRED BY THE COMMODITY FUTURES TRADING COMMISSION ("CFTC") TO ISSUE TO PROSPECTIVE CLIENTS A RISK DISCLOSURE DOCUMENT OUTLINING THESE FEES, CONFLICTS OF INTEREST AND OTHER ASSOCIATED RISKS.